How We Compare to Other Dog Foods
Here at A Pup Above, we believe that the best dogs deserve the best food! That's why we are on a mission to provide the tastiest foods utilizing the best ingredients mama earth has to offer.
In creating our recipes, we focus on developing high protein, low carb recipes that are as delicious as they are nutritious! Our gently cooked recipes have on average 50% more protein than other gently cooked foods! We also add bone broth to our gently cooked recipes, which has numerous health benefits for our pups, including aiding in digestion and skin/coat health.
See below on how we compare to other fresh foods!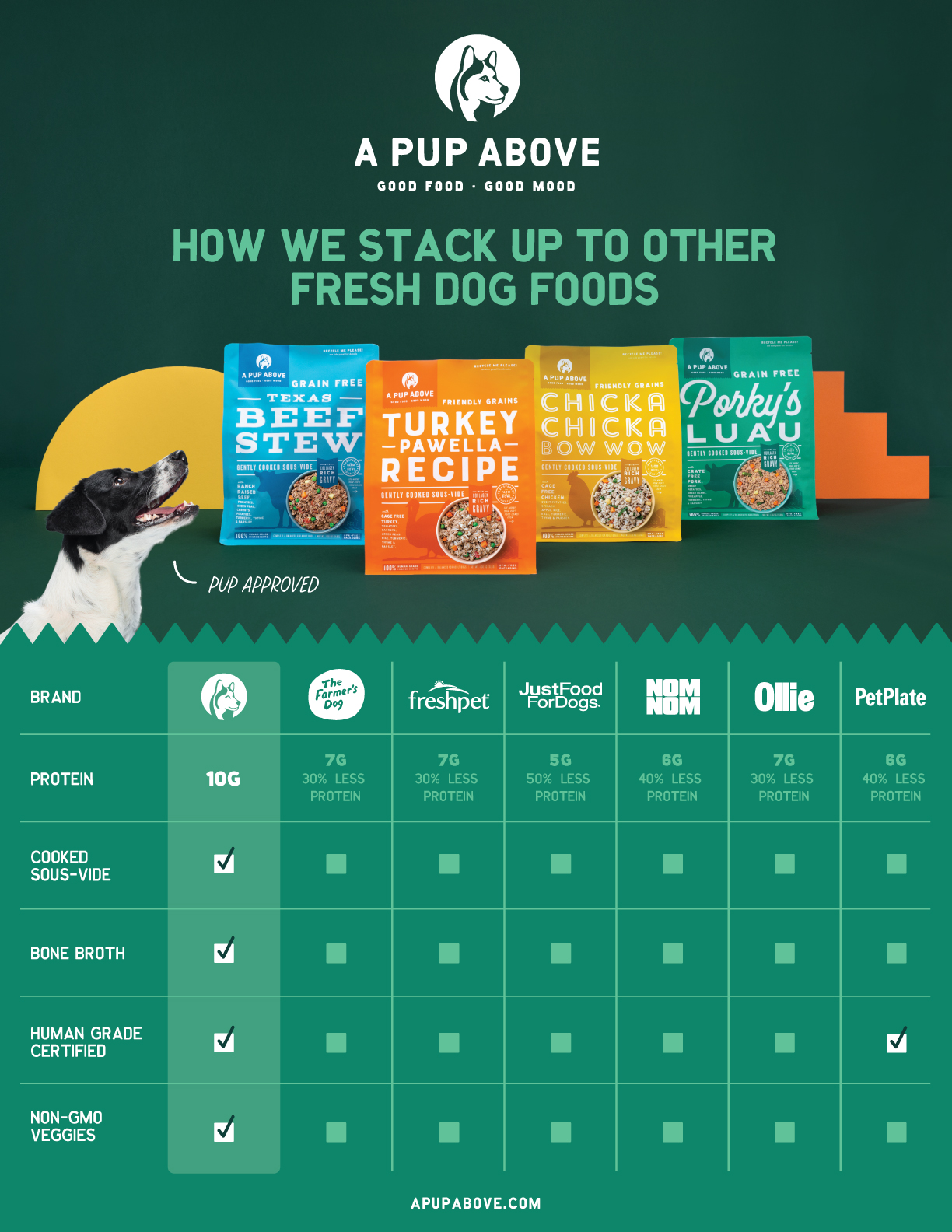 Our new air-dried Whole Food Cubies provide the taste and nutrition of fresh, with the convenience of a scoop! Our Cubies are packed with 70% animal protein and are much less processed than other dry foods, such as kibble. They provide an convenient way to feed your pup without compromising on nutrition.
Both our gently cooked and Cubies are cooked sous-vide, allowing us to pack them with protein, nutrients, moisture, and tons of flavor. Most foods, like kibble, canned, or even traditional 'fresh dog food' have been cooked over high heat - stripping food of its natural nutrients and flavor. Our unique sous-vide cooking method is a method that top Michelin restaurants around the world use to perfectly cook meats and fish. This method also locks in the whole food nutrients so they don't escape to cooking water like with stove top cooking. 
All of our recipes are Human-Grade certified and use 100% human-grade ingredients - because if it's not good enough for us to eat, it's not good enough for our pups! Our veggies and fruits are non-GMO and the proteins have no added antibiotics and steroids. Our foods are also fully transparent, from farm to bowl. On our website there is a place where customers can enter the lot number from the back of each bag to trace exactly where each ingredient came from.
---
---